Reviews
The NCWHS welcomes announcements of pertinent books, articles, chapters, novels, and websites as well as of visits to historic sites. Please This email address is being protected from spambots. You need JavaScript enabled to view it.  announcements to us for consideration. Note: we cannot accept advertisements or reviews of not-relevant topics.
A Perfect Union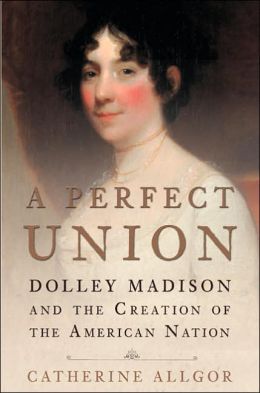 A Perfect Union: Dolley Madison and the Creation of the American Nation by Catherine Allgor. New York: Henry Holt & Co. 2006
Many of us know the story of Dolley Todd Madison abandoning her dinner but rescuing the formal portrait of George Washington as the British advanced on the President's House to burn it down in 1814.  And we don't want to even think what would have happened had she become a British hostage.  Catherine Allgor's A Perfect Union: Dolley Madison and the Creation of the American Nation provides us a much fuller understanding of how her life and the New Republic intertwined. 
Today we don't realize how famous she was and how visible her turbaned presence even as she claimed feminine passivity.  Within the confines of "proper" feminine behavior, Dolley Madison provided American citizens deep reassurance that this still young republic unsure with its then-experimental form of government could succeed.  Allgor convincingly argues that DTM was crucial in softening the harsh tone of early politics.  As a hostess, she provided much-needed social spaces where key parties could encounter and connect with each other.  Dolley Madison's drawing room and her thronged parties were a "social scene [which] supplied an extraofficial political structure." She used her hospitality, her clothes and her very being to signal a "vocabulary of power" and radiant confidence.  In her partnership marriage to The President, James Madison, she provided not only shrewd political actions but her generous and gracious temperament balanced his aloof one (p. 344).  
The Wages of History
The Wages of History: Emotional Labor on Public History's Front Lines, by Amy M. Tyson (University of Massachusetts Press, 2013), 978-1-62534-024-5
From the Press' website:
Anyone who has encountered costumed workers at a living history museum may well have wondered what their jobs are like, churning butter or firing muskets while dressed in period clothing. In The Wages of History, Amy Tyson enters the world of the public history interpreters at Minnesota's Historic Fort Snelling to investigate how they understand their roles and experience their daily work. Drawing on archival research, personal interviews, and participant observation, she reframes the current discourse on history museums by analyzing interpreters as laborers within the larger service and knowledge economies.

Although many who are drawn to such work initially see it as a privilege—an opportunity to connect with the public in meaningful ways through the medium of history—the realities of the job almost inevitably alter that view. Not only do interpreters make considerable sacrifices, both emotional and financial, in order to pursue their work, but their sense of special status can lead them to avoid confronting troubling conditions on the job, at times fueling tensions in the workplace.

This case study also offers insights—many drawn from the author's seven years of working as an interpreter at Fort Snelling—into the way gendered roles and behaviors from the past play out among the workers, the importance of creative autonomy to historical interpreters, and the ways those on public history's front lines both resist and embrace the site's more difficult and painful histories relating to slavery and American Indian genocide.
Erotic City
Erotic City: Sexual Revolutions and the Making of Modern San Francisco, by Josh Sides (Oxford University Press, 2009) ISBN: 978-0-19-537781-1
Sides offers a new twist to understanding the postwar urban landscape by arguing that changing cultural standards, as well as race relations, were a prime factor at play in shaping modern urban history. Specifically, he examines battles over the public expression of sexuality in the streets and neighborhoods of San Francisco to craft a portrait of a city undergoing a crisis of meaning over the course of the twentieth century. Moving neighborhood by neighborhood, Sides considers how changing moral standards were reflected in the built environment and places the theoretical firmly within the tangible reality of the city. While men are often at the center of the story—conducting police raids, running for office, creating the overt gay culture of the Castro District—women play a primary role as well. Battles over prostitution and erotic dancing are ultimately about expressions of female sexuality, and women were active participants in the transformation of the city, as concerned mothers, hippie nudists, lesbian feminists and sex industry workers. The book details Dianne Feinstein's early career as a local politician who campaigned on a platform of "cleaning up" the city, and it makes a particularly interesting case for the sexual revolution continuing into the 1980s and 1990s, led by sex-positive lesbians who took up the cause after AIDS constrained the behavior of gay men and heterosexuals.
-- Sue Ferentinos
Born in the USA
Born in the USA: Birth, Commemoration and American Public Memory, by Seth C. Bruggeman (University of Massachusetts Press, 2012) 296 pp. ISBN 978-1-55849-938-6.  
Public historians interested in the interpretation of women's history sites will be engaged by Seth Bruggeman's lively edited collection.  Most relevant is Kris Myers' essay about Paulsdale, the birthplace of suffragist Alice Paul, which describes how the site's founders eschewed the traditional house museum format and instead created a "dynamic learning space" that helps young people "emulate Paul's leadership qualities."  Christine Arato's essay on the John F. Kennedy birthplace, and Rose Kennedy's influence there, is also intriguing, as it traces the creation of a site created by a mother in memory of her own son, and also contemplates the consequences when a founder remains so very present in a site's ongoing interpretation.
Letters from Yellowstone
Letters from Yellowstone by Diane Smith
(Penguin, 1999. ISBN: 978-0-14-029181-0)
FICTION. A. E. Bartram, a young female medical student at Cornell University convinced the expedition leader, Andrew Rutherford, to be accepted to be part of a scientific expedition in Yellowstone Park during the summer 1898 so that she could study its botany there. Written using letters and telegrams, the novel provides a thoughtful (if occasionally anachronistic) introduction to many aspects of being a female scientist, to Yellowstone and to a West that no longer lives, in its complexity and complications and novelistic twists. Good historic fiction. —Heather Huyck